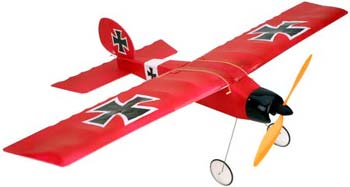 GWS Pico Stick FD

GWS's Pico Sticks have introduced thousands of flyers to slow flying. These simple stick fuselage airplanes are the ultimate in simplicity and fun. Now GWS is taking these slow flyers to the next step by introducing a full fuselage version- the Pico Stick FD (fuselage design).

GWS's Pico Stick FD uses the same efficient power system wing and tail as the Pico Stick and mates it with a lightweight injected foam fuselage. The fuselage comes in two halves and is joined with included foam-compatible glue. The tail is joined to the fuse, and the wing halves are glued together. The preassembled gear box with prop is installed, and the vacuum-formed cowl is then screwed in place. All hardware and pushrods are included, so all that's needed is a micro flight pack with two servos, a receiver speed controller, and a 6-cell 7.2-volt battery. GWS conveniently offers flight packs that include everything else needed (except transmitter) to complete the Stick in one package.

Getting it together
It took our staff about three hours to assemble the Pico Stick FD and install the radio gear. Total weight with a GWS micro flight pack and a 270mAh 6-cell battery was just 8.4 ounces. That's within a half an once of the stick fuselage version.

With flight speeds averaging in the 5 to 8 mph range, the Pico Stick FD is great for indoor gymnasiums or on days with little or no wind outdoors. Climb performance and power is very good, as we could do loops from a shallow dive and climb to 100 feet in about 25 seconds.

Flying Fun
What we like most about the Stick FD is its maneuverability. We could do tight spiraling nose-high turns in about 12 feet at stall speed with full control. Figure eights with full throttle and touch-and-go's are tons of fun. The maneuverability in tight areas, stability, and ease of flight is even better than the stick fuselage version, due to the wing having greater support at the center section. The challenge of flying a micro version of the Ugly Stick is great fun - and that's what this airplane is all about!